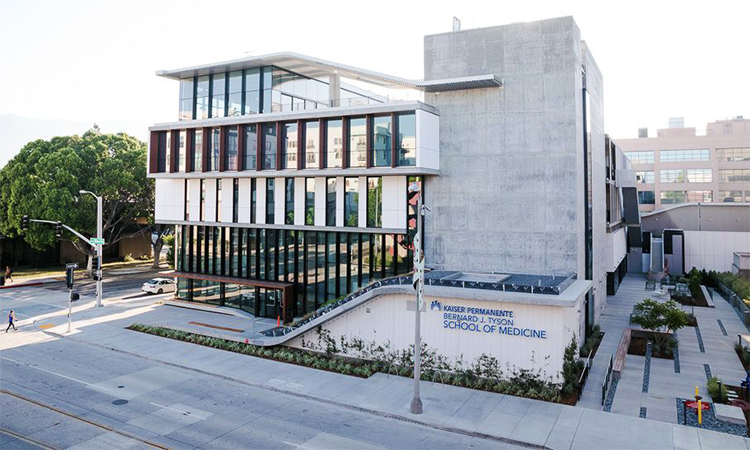 Address: 100 S Los Robles, Suite 501, Pasadena, CA 91188 (Kaiser Permanente School of Anesthesia)
Phone: (626) 564-3016
Contact: Sandra.j.Hinkson@kp.org
About The Program
The California State University Fullerton CRNA program is currently offered with the Kaiser Permanente School of Anesthesia (KPSA). The KPSA was started in 1972 and is a highly decorated school which has produced many graduates that have made significant contributions in anaesthesia.
The CRNA program will take 3 years to complete (109 credits) and upon completion, you'll receive a DNP in Nurse Anesthesia. In order to apply for this program, you'll need to complete their online application between February 1st and August 31st. Once you've submitted your application, you'll get an invitation (if your application is accepted), by late September. Interviews usually start in October until November at the KPSA facility in Pasadena, California. Then, in November, the school will send out admission emails where you will need to complete another application. Classes usually start in August of the following year.
This program is quite competitive to get into as there are usually over 400 applicants every year. The class size is typically between 35 to 40 people.
Attrition rate of this program (in 2019) was 6% with first time test taker success and employment rate being an impressive 100% for this 2019.
Curriculum
The curriculum will include advanced courses in anesthesia, physiology and anatomy, pharmacology, pathophysiology and more. In addition to theoretical courses, there will also be clinical practicum where you will be able to practice what you've learnt on a wide range of patients. This clinical experience is fully supervised by qualified nurse anesthetists.
Ranking
This program is currently ranked #4 in the U.S. News & World Report 2016 which is a significant increase since it was ranked #22 in 2011.
Tuition
The cost of this program is $94,400. The tuition on its own will cost approximately $74,000 with the additional $20,400 for school fees, books and other additional school related expenses.
California State University, Fullerton Admission Requirements
This school requires that you have a minimum of a 3.2 GPA for the last 60 semester units of your BSN or MSN. It is also necessary that your BSN or MSN was completed before the CRNA program deadline. This degree needs to be from a regionally accredited university since national accreditation is not sufficient. If you have a degree from outside the United States, then your degree will need to be fully evaluated by a foreign transcript evaluation agency. They will basically compare it to the same US degree and convert your foreign GPA to its US equivalent.
You will also need to have an active and completely unrestricted California RN license. Do note that if you are interested in applying to this university's CRNA program and you live outside of California, then you'll have to review the requirements for California RN Licensure by Endorsement to ensure that you meet all of those requirements and apply for it.
Additionally, you'll need to have a minimum of 1 year full time clinical registered nursing experience within the last 2 years. This experience needs to be within an adult critical care ICU.
Acceptable Critical Care Experience:
Medical ICU
Surgical ICU
Coronary Care Unit
Trauma ICU
Cardiovascular ICU
Neuro ICU
Burn ICU
CT ICU
Unacceptable:
Emergency room, post anesthesia care unit, step down unit and cath lab. (These are not considered adult critical care experience).
Certifications Required
CCRN
TOEFL, IELTS and PTE proficiency tests: These are necessary if your native language is not English. Proof via these certifications are required before the admissions council can make a decision on your status.
Special note for international students: Once you require an F-1 or J-1 visa, then unfortunately, you won't be accepted into this program.
Accreditation
This school is extremely stable and has been granted accreditation from May, 2017 to May, 2027 (10 years). In 2027, the program will be reviewed again.
Application Process
As mentioned previously, applications for the California State University Fullerton CRNA program are accepted between February 1st and August 31st. The steps you'll need to take are as follows:
Step #1: Create your prospective student profile
This will include filling out details on your education, clinical experience, transcripts, CCRN certification information etc.
Step #2: Submit your application via the portal
You will then use this portal to submit your application. Your application should also include a copy of your RN license, personal statement and contact information of 3 recommenders.
Step #3: Interview
Once you have been selected for an interview, you will be informed. These interviews are typically held in October and November.
Step #4: Submit application to California State University Fullerton (Only when invited to do so by the university or KPSA.)
This step should only be done if you are accepted into the CRNA program. Here, you'll submit an application to CSUF, pay the required fee, submit the transcripts of your Bachelors or Masters degree – it is preferred that you submit electronic transcripts.
Interview
According to past interviewees, they indicated that there were about 30 spots per year at this school with a waitlist of 5 students. You will need to undergo the Wonderlic Assessment which basically tests your critical thinking skills and it is also a personality test. This is not a stressful test according to past interviewees as the style of the test is very simple.
The test is made up of three parts where the first part is 50 questions that determine your critical thinking skills, the next part has questions where you'll rate each one from a scale of 1 to 3 (this is mainly questions on your desires at work) and the last section is the personality test.
California Nurse Anesthetist Salary & Job Outlook
The typical salary for nurse anesthetists in California is $226,143. This is higher than the majority of states simply due to the fact that California has a higher cost of living.