There are two CRNA schools in Arizona and Midwestern University in Glendale is one of them. Upon graduating, you will receive  a Masters of Science in Nurse Anesthesia.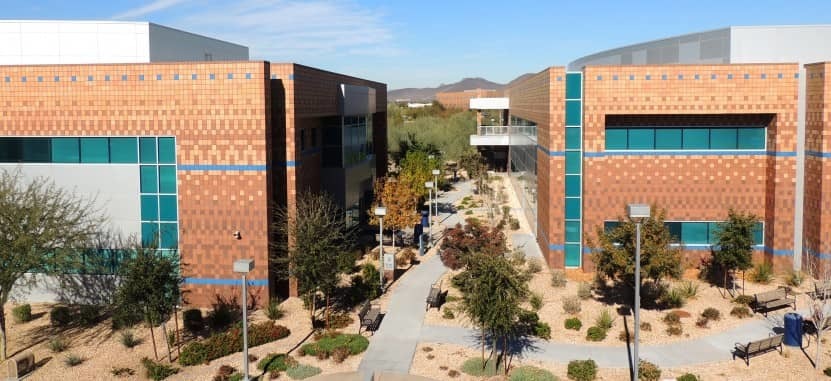 Address: 19555 N 59th Ave, Glendale, AZ 85308, USA

Phone number: 623-572-3215 or 888-247-9277

Contact: Program Director and Assistant Professor – Terence Burrows, DNAP, CRNA – 623-572-3760
Assistant Program Director and Assistant Professor – F. Scott Imus, Ed.D., CRNA
Email: fimus@midwestern.edu
About The Program

This is a full time crna school that will take 27 months to complete. Admissions are done on a rolling basis, however, it is best that you submit your application by July 31st since the class is usually full by December.

The typical class size is 34 persons with the 2019 class being 59% male and 41% female. The average age of students is 31 years old and their average GPA is 3.58. About 26% of the students are from Arizona.

The attrition rate for 2017 is 6% with a pass rate of 94%. 71% of the students who write the exam pass on their first try and 100% of graduates are able to secure a job.

The Midwestern University Glendale CRNA program is a solid program that teaches you everything you need to know about anesthesia management. What you learn in the classroom will be applied at various clinical sites under the guidance and watchful eyes of anesthesiologists and other CRNAs.

Once you have completed this program, you will be able to work in a wide range of practices and settings such as within a hospital, pain clinic, same day surgery centers, urban or rural hospitals etc.

The actual MWU 27 month program is divided into two main phases. In the first phase, you will learn the basic sciences, how to use anesthesia equipment as well as anesthesia management. This particular phases will last 4 quarters and all of your coursework needs to be completed before moving onto the next phase.

The next phase is 5 quarters long and you will need to do an anesthesia research based project as well as a clinical practicum. Here you will get the necessary hands on experience and this phase will start during the summer of your second year.

As a student at this university, you will be considered for rotation at clinical sites in:
California
Colorado
Arizona
Arkansas
Ohio
Texas
Montana
New Mexico
Louisiana
Florida
Washington
Utah
Nevada
Any other available clinical location
You will be able to work at any combination of clinical sites in various states, however, you will need to organize your own transport and accommodation.

As a result of this rotation, you will gain a wide range of clinical experience in urban, rural and suburban sites. There are also specialty rotations in the specific fields of obstetrics, cardiac surgery and pediatrics.

See Midwestern University Glendale's CRNA details here
MWU Ranking
This university is currently ranked #65 with a 2.7 score in the US News & World Report 2016. It should be noted that this school was not ranked in 2007.

Tuition

The cost of tuition is currently between $96,000 – $107,000. Keep in mind that the cost of tuition changes on a year to year basis and you can expect an increase by 4 – 7% every year.

Midwestern University Glendale Program Requirements

In order to be considered for admission into this Glendale Arizona CRNA school, you will need to have Bachelors in nursing by a regionally accredited US university or college. You will also need to have a cumulative GPA of at least 3.0 on a 4.0 scale. Your science GPA will need to be at least 3.0 and this has to include the following courses: Chemistry, Physics, Physiology, Anatomy, Pharmacology and Microbiology.

An unrestricted license to practice as a registered nurse is also required and you should not have had any previous restrictions or sanctions on your license.

Critical Care Experience
You need to have at least one (1) year of critical care experience. Acceptable critical care experience includes:

Adult ICU
Emergency Room
Pediatric ICU
PACU
You should also have experience with invasive monitoring, mechanical ventilation management, vasoactive medication infusions etc.

Note that Neonatal ICU experience is not acceptable.

Oral and written skills will also be considered as well as your interest and understanding of the nurse anesthesia field.

Pre-requisite courses:

General Chemistry
Anatomy and Physiology
Biochemistry (This course is not required but is strongly recommended)
Organic Chemistry (Also not required but strongly recommended)
Note that you must pass these pre-requisite courses with a C or higher grade. C minus (C-) is not accepted.

GRE and TOEFL are not required. However, international students need to have completed at least 30 hours of coursework from a university or college that is accredited in the US. If you're coming from Canada, then you need to have completed the same coursework from a recognized tertiary Canadian institution where English is the main language in the coursework and documentation.

Within the 30 hours of coursework, the split should be as follows:

15 hours – Sciences
3 hours – Public Speaking/Speech
6 hours – Non remedial English Composition

Required Certifications:

ACLS – (Advanced Cardiovascular Life Support)
PALS – (Pediatric Advanced Life Support)
CCRN is not currently required.

Technical Standards For Admission

There are 5 areas in which each possible candidate needs to be skilled in. These are:

Observation
Communication
Motor
Intellectual, Conceptual, Integrative, and Quantitative Abilities
Behavioral and Social Attributes
You can read more details here.
Accreditation

This is a stable CRNA school and it is currently accredited for 10 years for the period of October, 2011 to October, 2021.

In October 2020, this program has plans to submit an application to the COA for approval so that they can award the students of this program with a DNAP (Doctor of Nurse Anesthesia Practice) degree upon successful completion of the program. Once this is approved by the COA, the first set of doctoral students will tentatively be enrolled in December, 2021.
Interview Information

Once you have been invited for an interview, there are usually other interviewees waiting as well. The program director will typically greet everyone, talk about the program and then the group of interviewees would be split in two.

The first group will start to be interviewed individually while the other group would go on a tour of the campus. Once the first group is finished being interviewed, they will then tour the campus while the second group is interviewed.

Typically speaking, you will be interviewed by a panel of 3 – 6 people.

Some typical past interview questions include:

1. Why do you want to be a nurse anesthetist?
2. What is the difference between a nurse anesthetist and an anesthesiologist?
3. What will you do if you fail?
4. How good are you at biochem?
5. Who was the sickest patient you've taken care of and include information on the pathophysiology of their disease, vasopressors used and why etc.
6. What is the difference between the autonomic nervous system and sympathetic nervous system?
7. Exactly what receptors are affected by levophed?
8. Define SIRS from a pathophysiological standpoint
9. Have you shadowed a CRNA?
What Do Students Like About This School?

Arizona CRNA Salary & Job Outlook

The average salary of a CRNA that is working in Glendale Arizona is $180,700 per year with the typical range being between $166,100 – $197,200 according to Salary.com. On ZipRecruiter.com, the average salary is $187,850 per year with a range between $157,778 – $217,953.

The average US CRNA salary is $168,151 which means you'll make on average $12,000 – $20,000 more by being a nurse anesthetist in Glendale. Of course, these are just averages and you may fall lower or higher on the scale depending on your education and experience.