In California, National University is 1 of 5 schools that offers the CRNA program. They currently offer a Doctor of Nurse Anesthesia Practice (DNAP).
Address: 9388 Lightwave Ave, San Diego, CA 92123
Main office and admissions: 800-628-8648
CRNA Program Director: Dr. Joseph Martin – 559-256-4902 | jmartin2@nu.edu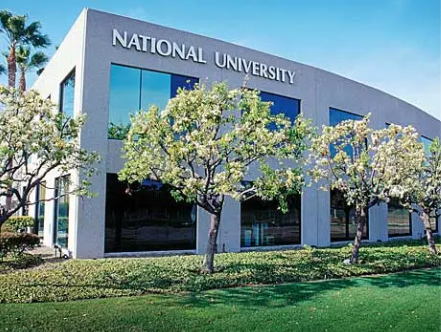 About The Program
This program will take 36 months to complete and it is a hybrid program where 15 of those months will be onsite didactic and 21 months will be a clinical residency. You'll be required to complete 34 courses and 138 quarter units. The pass rate of this school has shown a progressive improvement where the 1st time NCE pass rate for the class of 2021 was 91% and the second time pass rate was an impressive 100%. The second time pass rate from 2017 to 2021 was 100% which is very encouraging. Attrition rates vary between 5% to 19% and it is currently 13.3%. 
One of the great things about this program is that it is highly flexible with both online classes and onsite classes at the university. There are over 220,000 alumni all over the world and enrollment for the CRNA program is year round since applications are reviewed throughout the year.
This university is currently ranked #100 in the U.S. News & World Report 2016 and is fully accredited. Its accreditation will be reviewed again in May, 2027. This program started in 2012 which makes it a relatively new nurse anesthesia program. The class size is typically around a dozen students which allows for sufficient individual attention. After you've gained your DNAP, you don't need to worry about getting a job since the employment rate for the last 6 years has been 100%.
Ranking
This university is currently ranked #100 in the US News & World Report (2016)
Tuition
The approximate cost of tuition is $72,396 per year. This average cost is based on the tuition for 2021 – 2022.
The breakdown is as follows:
Tuition and fees: $41,604 (per year)
Books and relevant supplies: $1,440
Additional costs related to education: $5,124
This gives a total of $48,168 for solely school related expenses. The additional $24,228 is an approximation of how much will be required for housing, food and transport per year.
Program Requirements
In order to be successfully admitted into this program you'll need to have a Bachelor of Science in Nursing (BSN) from a CCNE or NLNAC accredited university. Alternatively, you can also have a Bachelor of Science degree in a physical science in addition to being a fully licensed and registered nurse.
Your nursing licence needs to be current and fully unencumbered for any state in the United States. You should also be eligible for licensure within all of the states in the US.
GPA scores are also very important and you'll need to have a minimum of a 3.0 GPA. If you don't have a cumulative 3.0 GPA, then you will need to show a 3.25 GPA for the last 60 hours of your final undergraduate courses. With that said, you will need to have a science GPA of at least 3.0.
The following prerequisite courses must be completed:
Physiology
Pharmacology
Undergraduate statistics
General Chemistry (with lab)
Anatomy with Lab
Critical Care Experience Required
You should have a minimum of 1 year of critical care experience within an intensive care unit over the last 3 years of being a nurse.
Unacceptable experience includes:
Operating room
OB
PACU
Do note that Emergency Room experience will have to be considered on an individual basis.
Required certifications:
One of the following: CCRN, CEN, or CFRN
ACLS and PALS certification
Note that GRE and GMAT are not required for admission into this program.
Additionally, you will need to provide three recommendations. One from a member of the academic faculty that knows the details of your academic performance, another from your current clinical supervisor and one from an anesthesia provider or a critical care nursing colleague.
You will also be required to travel for clinical rotation assignments and go to different clinical sites on short notice as needed.
Accreditation
National University's program is fully accredited by the COA (Council on Accreditation of Nurse Anesthesia Educational Programs) and will be reviewed again in May, 2027. 
National University Interview
After you've submitted your application and are called for an interview, this can be quite nerve wracking. Fortunately, past interviewees have shared their experiences which can help you to prepare.
Many applicants indicated that there is an ATI Critical Thinking Test as well as a writing portion during the interview. In order to prepare for the writing portion, it is best to use GRE questions to prepare. The questions asked during the interview were a mix of personal questions and clinical questions. The interviews were typically short, around 15 minutes. At the end of the interview, interviewees are usually told that they will be informed of their decision in approximately 2 weeks.
Top Reasons For Not Getting An Interview Or Being Unsuccessful In An Interview
Unfortunately, National University won't be able to accept every applicant and there are usually 100+ applicants that don't receive a call for the next step in the application process (the interview). 
California CRNA Salary & Job Outlook
The average salary for CRNAs in California according to Ziprecruiter, Salary.com, Payscale and Indeed are as follows:
According to Ziprecruiter, the average salary is $87,715 (hourly rate of $42/hour) with the upper range (3% of nurse anesthetists) earning $168,568.
Salary.com's average CRNA salary (for California) is currently at $231,101 per year.
Payscale.com's average salary is currently at $231,004
Indeed.com's average salary is currently at $216,325