There are 5 CRNA programs in California and Samuel Merritt University offers one of them.
Address: 3100 Telegraph Ave, Oakland, California 94609
Phone: 800.607.6377
Contact: admission@samuelmerritt.edu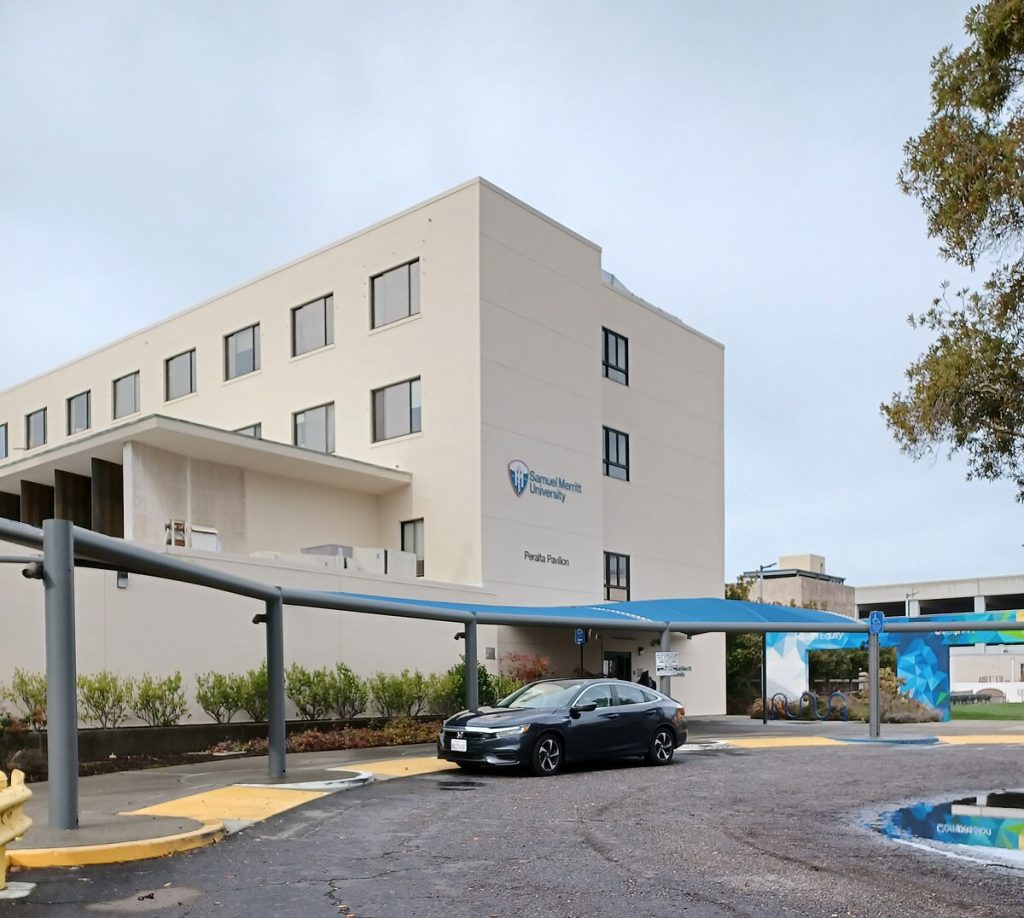 About The Program
The Samuel Merritt CRNA program will take 27 months and 66 credits to complete and at the end of it, you'll get a DNP in Nurse Anesthesia. Out of the 27 months, 24 months will be spent in a clinical residency. Do note that this was previously offered as a MSN program, however, the last class matriculated in fall 2021 and the DNP was offered after.
This particular program offers a student to teacher ratio of 9:1 which means that each student will enjoy sufficient individual attention. Applications need to be sent in by February 1st and interviews are typically held throughout February. Classes will officially start in September.
Class size is typically around 28 students and this school usually gets approximately 107 applications per year.
This school is heavily invested in diversity and hosts the Diversity in Nurse Anesthesia Mentorship Program along with partnerships with various national conferences. They've done so since 2012 and use the program to mentor students throughout the United States. Samuel Merritt's nurse anesthesia program is heavily focused on student diversity and as many of 63% of the students in the program are from diverse backgrounds.
The pass rate for first time test takers is 88% and the attrition rate is an impressive 0%. Employment rate, which is undoubtedly the most important concern for most potential students, is 100%.
Ranking & Accreditation
This program is fully accredited and was granted accreditation in 2014 for a 10 year period, after which it will need to undergo review. According to the U.S. News & World Report 2016, this program is currently ranked at #18 whereas it was previously ranked #11 in the 2011 U.S. News & World Report.
Tuition
The current cost of tuition for 2023 is $46,544. See here for a further breakdown. 
What Sets The Samuel Merritt University CRNA Program Apart?
As previously mentioned, the student to teacher ratio is 9:1
The faculty are not only well educated but also extremely experienced in the field. This program's main faculty members all have doctorates and are also clinical practitioners.
Students are supported in a number of ways. For example, 100% of students receive financial aid and will be assigned to a senior student mentor as well as a faculty mentor. There is also a 0% student loan default rate.
High focus on student diversity.
Samuel Merritt CRNA Admission Requirements
This is a very competitive program to get into. In order to be considered, you'll need to meet a wide range of admission requirements. To start with, you'll need to have BSN with a 3.0 GPA or higher. Additionally, your GPA for your BSN's last 60 semester/ 90 quarter units needs to be 3.0 or higher. The GPA for your Science based coursework also needs to be 3.0 or higher.
AACN Certification Requirements (One of the following):
You will also need a current and unencumbered RN license in the state that you're a nurse.
Critical Care Experience
At least 2080 hours of critical care experience in the last 5 years of your CRNA application. This experience needs to be in the United States or in one of its territories. Outside of the United States, critical care experience in a US Military hospital is also accepted (in the last 5 years).
When it comes to the actual critical care experience, only the following are acceptable:
Medical Intensive Care Units
Neonatal
Pediatric
Post Cardiovascular Surgery
Neurosurgical Specialty Units
Trauma
Do note that the following critical care experience is not accepted At Samuel Merritt:
Flight nursing
PACU
Emergency Room
Cardiac Catheterization Lab
Critical Care Transport
Other certifications that are required upon matriculation:
BLS
PALS
ACLS
CCRN – highly recommended
GRE & TOEFL
Fortunately, there are no minimum GRE scores that are required by this school. However, you will still need to have completed the GRE within 5 years of applying. International students will be assessed on an individual basis according to their application and may or may not need to do the TOEFL. If it is requested, then a score of 100 or more is necessary. 
Application & Interview
When completing your application, there are numerous things that you need to ensure you do. It is essential that you highlight your professional experience in the last 5 years, professional goals and development, experience in leadership positions or situations as well as why you want to become a CRNA in California.
In terms of your professional experience, be sure to indicate your experiences in nursing and how they led to your interest in nurse anesthesia. You should also list any academic awards, achievements or special experience you may have. If you've had an opportunity to play a role in leadership, you should also highlight and explain all of the lessons you've learned. When explaining why you want to become a CRNA and study at Samuel Merritt University, you should indicate why you want to study at Samuel Merritt as opposed to any other university.
Other Application Requirements
When submitting your application, you'll also need to submit 3 letters of recommendation.
Clinical shadowing experience is also required (minimum of 8 hours). You will need to submit the name and contact details of the CRNA that you shadowed.
Descriptions of your volunteer or service experience are also necessary along with an explanation of your DNP project idea.
Interview Information
Once applications have been reviewed, then requests for interviews will be sent out for suitable applicants. Do note that not all applicants will be interviewed, even if they are qualified.
However, the program admissions committee will base its decisions based on your application and how well the material is presented, the quality and professionalism of your application and how well you understand nurse anesthesia and the role.
Samuel Merritt Interview Question + Tips
We'll now dive into some of the interview questions and tips that many past interviewees have shared.
One common sentiment is the need to present a likeable persona since the CRNA community is relatively small. This means that the interviewers want to be able to see themselves working with you. This is important because the chances are very high that you'll eventually work with your teachers, clinical coordinators etc. Social skills are very important and not just academic skills and qualifications.
The interview panel will usually consist of between 7 to 10 people. What sets SMU apart is that their interviews are usually more personality based as opposed to quizzing you on your clinical knowledge. However, if your clinical experience is low/shaky, then you can expect them to ask you more clinical questions. So, be sure to review this before attending the interview.
California CRNA Salary
The average salary for nurse anesthetists in California is $226,143.