When it comes to CRNA schools in Texas, the Texas Weslayan University is the only one in this location and in Colorado.
Address:
1201 Wesleyan Street
Fort Worth, TX 76105
Phone: (817) 531-4406
817-531-4444
Toll Free: 800-580-8980
Contact: igriffin@txwes.edu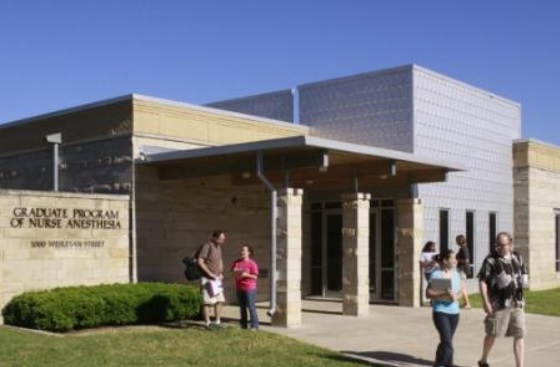 About The Program
The Texas Wesleyan CRNA program will take 36 months to complete and at the end of it, you'll get a Doctorate of Nurse Anesthesia Practice. This school has an amazing faculty and hands on simulation labs that will help you to become a well-rounded CRNA that can work in any hospital.
The NBCRNA Exam pass rate as of 2022 is 75%. That said, the pass rate within 6 months of graduating from this program is an impressive 98%. The employment rate is an unbeatable 100% within 6 months of passing the NCE. The attrition rate for 2022 is 9%.
This school has an approach of having smaller classes so that students get more attention from the faculty which helps increase the chances of success.
If you're interested in applying for this school for Fall,2024 then the deadline for doing so is 1st of November, 2023. If selected, then you'll get a notification for an interview between October to February. The interviews are conducted between January and February and if you've been accepted, then you'll be informed between the 30th of January and 15th of February.
The Texas Wesleyan University has 22 clinical facilities in 9 states so you can study to become a CRNA in the state closest to you. For the first year of the CRNA program, you'll need to study at the main campus located in Fort Worth, however, the following 4 months, you can continue at an assigned clinical site or choose to remain at the main campus.The last 20 months of the program, you will need to continue at your assigned clinical site. The clinical sites are located in North Dakota, California, Colorado, Kansas, Oklahoma, Texas, Arkansas, Louisiana and Alabama.
At your chosen clinical site, you will need to complete at least 800 cases in a variety of specialties. You'll also need to do rotations for one to two months in areas such as Regional anesthesia, Pediatrics, Cardiac, Neuro surgery and Obstetrics. In the clinical part of the program, each week will consist of 1 day of class and 4 in clinical training.
Ranking & Accreditation
This program is fully accredited and was granted accreditation in May 2022 for a 10 year period, after which it will need to undergo review (May 2032). According to the U.S. News & World Report 2016, this program is currently ranked at #74.
Tuition
The tuition fee for 2023/2024 is $1,320 per credit hour and this includes tuition, fees and a technology fee. To complete this degree, you will need to do 92 credit hours which equates to $121,440. Do note that this figure doesn't include required books, living expenses or any other additional charges.
What Sets The Texas Wesleyan University CRNA Program Apart?
This is a long standing school with an excellent history. They put students first with smaller class sizes so that the students get more attention from faculty and have a greater chance of success.
They focus on the small details which help you to become a better CRNA.
Faculty are well trained with a lot of real world experience which they pass onto their students.
Encourages critical thinking.
Simuation Lab:
Texas Wesleyan University CRNA Admission Requirements
This program is competitive and all applicants will need to show that they have the knowledge, skills and capability to successfully complete the program.
To start with, you will need to have an unrestricted RN license that doesn't have probation, suspension or stipulations. It must be valid in at least one state in the US. In order to do the clinical training, your RN license must be valid for that state.
The certifications that you'll need to have include:
You will also need to have a BSN that is from a fully accredited university that utilizes the traditional grading system. Your GPA will need to be 3.0 or higher and your science GPA should also be 3.0 or higher. Do note that the required GPA is overall or at the very least, the last 60 hours.
Other educational requirements:
College level chemistry course where you've achieved a grade B or higher. Note that it doesn't need to include labs, but you do need to have completed this within the last 3 years of applying to this school. It is best that you have Organic chemistry and Intro Chemistry isn't accepted. Non-science based majors are not accepted.Besides organic chemistry, general chemistry and biochemistry are also accepted.
College level algebra or higher with a grade B or higher. You cannot substitute a statistics course for algebra.
Critical Care Experience
It is absolutely essential that you have a minimum of 1 year critical care experience, especially within the last 3 years of applying to this CRNA school.
Note that critical care experience in the following fields are NOT accepted: flight nurse, ER, Acute care and PACU.
GRE
There is a strong preference for GRE scores of 300 (Verbal and Quantitative combined). However, if you have a Masters degree from an accredited university or college then GRE is not required.
Additional Requirements For Texas Wesleyan University Application
You will need to write an essay for your application into the CRNA program that covers your professional development as a nurse, your critical care experience as well as how you've prepared to become a nurse anesthetist.
An interview will need to be done where you showcase these things as well.
Interview Information
As mentioned previously, if your application has been successful, in the next step you'll be called for an interview for further assessment. Typically, interviews are done between January and February. In most cases, you'll be called for a group interview unless this isn't mentioned in your notification email.
According to past interviewees, the interviewers try their best to make you feel comfortable and are extremely approachable.
Colorado CRNA Salary & Job Outlook
The average Nurse Anesthetist salary in Colorado is $212,900 with a range between $197,900 and $229,800 according to Salary.com. According to Indeed.com, the average salary is $210,022 with a range between $174,105 and $253,349.
Other Schools
Not sure if this is the school for you? Check out these others.