In Alabama, there are two universities which offer a CRNA program and the University Of Alabama in Birmingham is one of them. The CRNA degree which is currently being offered here is a Master of Science in Nursing.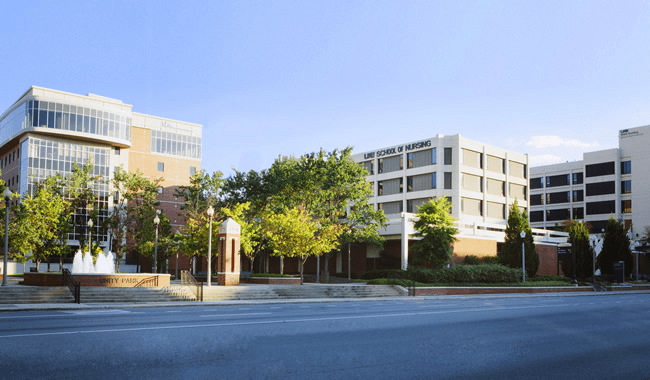 Address: UAB School Of Nursing – 1720 2nd Avenue South, Birmingham, AL 35294-1210. – This is their Mailing Address.
Physical Address: 1701 University Boulevard, Birmingham, Alabama 35294
Phone: 205-934-5428
Contact:
For Information About Nurse Anesthesia, you can contact the program director, Susan McMullan, PHD, CRNA @ (205) 934-6587. Email: mcmullan@uab.edu
For Information On The Application Process, you can contact the Nurse Anesthesia Program Program Administrator II, Stacey Smith @ (205) 934-7412. Email: staceysmith@uab.edu
About The Program
This CRNA program is a full time program that will take a minimum of 27 – 28 months to complete. Your first ten months, will be solely dedicated to didactic education and the following 18 months will be dedicated to clinical. When you start clinical in the third semester, you will have the option to stay in Birmingham or go to a regional clinical site. These sites include Dothan, Huntsville, Montgomery and Tuscaloosa. This is a great option for students who want to finish their training at a regional site that is close to their home.
To break it down, you will need to complete 111 total credit hours – 60 didactic hours and 51 clinical hours. You will also have to complete 1250 hours of direct patient care. The curriculum is 7 semesters long and after completion, you can then apply to take the nurse anesthetist certification exam. Only after successful completion of the exam, then you can practice as a CRNA.
This program usually starts in August and the application deadline is June 1st for early decision and October 1st for regular admission. Note that early decision applications are dealt with more stringently than regular admission applications, however, if your application is not initially accepted, it will be rolled over to the regular admission. So, if you *really* want to do this program, you should send in your application by the early decision deadline.
Each class usually has up to 55 students and this program usually gets around 200 – 250 applicants every year which makes it quite a competitive program to get into.
The attrition rate for 2015 was 2% and the national NBCRNA exam pass rate for 2015 was 85%. Employment rates after 6 months of graduation from the Univeristy of Alabama Birmingham's program is currently 100%.
Ranking:
This school is currently ranked #65 with a 2.7 out of 5.0 score according to the US News & World Report (2016).
Tuition:
In-state tuition will cost between $55,000 – $65,000 and out of state tuition will cost between $125,000 – $135,000. This will change on a year by year basis and you can check out their tuition breakdown here: http://www.uab.edu/nursing/home/student-information/acad-prog/tuition-fees
What Makes The University Of Alabama In Birmingham's Program Special?
1. Ability to do your clinical rotation at any one of their regional sites: Birmingham, Huntsville, Dothan, Tuscaloosa or Montgomery.
2. State of the art facilities for students. You will have full access to a cadavar dissection lab, a simulated operating room suite and high fidelity mannequins. This will allow you to have superior hands on experience that is simply invaluable in your training to become a CRNA.
3. Excellent clinical, hands-on experience.
4. In 2025, all nurse anesthetists will need to have a doctorate in order to get certified. UAB has already created a DNP program that can be done right after completing your Masters which creates a seamless educational experience.
Program Requirements – What You Need To Get Into UAB
Firstly, you will have to have a BSN from a regionally accredited institution that is on par with the one from UAB as well as an unencumbered registered nurse license in the state where you want to complete your clinical rotations. Any shadowing experience is also valuable and will help your application into this university since it proves that you know what being a CRNA entails.
One year of critical care experience is also required. Acceptable critical care experience includes:
1. Coronary care and postoperative cardiovascular units
2. Medical ICU
3. Surgical ICU
4. Pediatric ICU
5. Neonatal ICU
6. Invasive Monitoring of patients with critical illness and administration of vasoactive drugs.
Unacceptable experience includes:
1. Cath Lab
2. Emergency Room
3. Step Down Units
Note that if you are unsure if your critical care experience qualifies, you should contact the program via phone for clarification.
Other requirements include a minimum of a 3.0 GPA and a 3.0 minimum on the science pre-requisite courses. These include:
1. Human Anatomy
2. Microbiology
3. Descriptive Statistics
4. Human Physiology
5. Chemistry
You will also be required to have done the GRE but there is no minimum score. You are expected to have completed all sections of the GRE which include analytical writing, verbal and quantitative reasoning. International students will have to complete the TOEFL and have a score of at least 500.
3 Letters of recommendation are also required and each of the letters must indicate your suitability for undergoing the CRNA program.
Once everything goes well, you will be given an interview with the selection committee.
Accreditation:
This is a stable program and has been granted accreditation from October 2010 to October 2020 when it will be reviewed once again.
UAB Interview Information:
Once you've been granted an interview, you will most likely be interviewed by a panel of about 5 people. According to past interviewees, you will get a mix of personal and clinical type questions. Some common topics and questions you may be asked include:
1. Why do you want to be a CRNA? Why do you want to go into anesthesia?
2. Why not NP?
3. Describe a bad patient experience you had
4. Did you ever make a mistake and what did you do to rectify it?
5. ICU related questions
Alabama CRNA Salary & Job Outlook
Alabama nurse anesthetist salaries are on the lower end of the salary scale in comparison to other states in the United States. You will earn between $118,000 – $150,000 per year and the median salary is $133,000. The average annual salary for CRNAs in the US for 2016 is $168,151 with the typical range being between $154,515 and $183,458.