There are nine CRNA programs in Florida and the University of Miami offers one of them.
Address: School of Nursing and Health Studies: P.O. Box 248153
Coral Gables, FL 33124
Phone: (305) 284-3666 / (305) 284-4325 
Contact: sonhs@miami.edu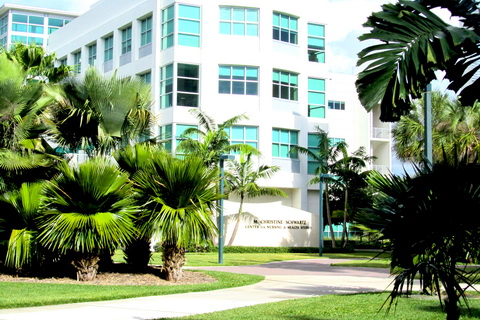 About The Program
The University of Miami offers a DNP in Nurse Anesthesia that is quite competitive to get into. The program itself is 9 semesters long (36 months) with entry in the Spring. You can start submitting applications from the 1st of September, 2023 until the 1st of February, 2024. All applications need to be submitted through the NursingCAS and you can also keep track of the status of your application there. 
You can expect the class size to be around 35 students. You will have classes at the M. Christine Schwartz Center for Nursing Excellence which is located on the main campus. This university offers a low faculty to student ratio to ensure that you get the individual attention you require to become a successful CRNA. Do note that all your classes will be in-person as there aren't any online courses.
One of the things that sets this program apart from others is that they are committed to ethnic diversity and are constantly re-evaluating the program to make updates and changes to provide the best education for students. You can also expect state of the art simulations which will help students to apply didactic principles.
UM also has partnerships with 14 clinical partners which helps provide higher quality clinical experiences. These clinical partners are:
Miami Surgical Center
Memorial Healthcare System: Memorial Hospital Pembroke & Joe DiMaggio Childrens
Mount Sinai Medical Center
Broward Health: Broward Health Medical Center, Broward Health North, Broward Health Imperial Point & Broward Health Coral Springs
Mercy Hospital
Nicklaus Childrens Hospital
Baptist Health System: Baptist Hospital, South Miami Hospital & West Kendall Baptist Hospital
Jackson Health System: Jackson Memorial Hospital, Jackson West Community Hospital & Holtz Children's and Women's Hospital
Cleveland Clinic Florida Health System
UHealth System: UHealth Tower, Sylvester Comprehensive Cancer Center, Bascom Palmer Eye Institute & The Lennar Foundation Medical Center
John Hopkins All Childrens Hospital
Veterans Affairs Health Care system: West Palm Beach VA Medical Center & Bruce W. Carter Department of Veterans Affairs Medical Center Miami
Lennar Foundation Medical Center
Steward Health Care: North Shore Medical Center
The first time pass rate for students is between 79% to 97%. The first time pass rate for the last two years (2021 and 2022) are 93% and 97% respectively. The second attempt pass rate for these two years is 100%. The attrition rate for 2018 to 2020 was 9%, in 2021 it was 17% and in 2022 it was 5%. The employment rate for between 2018 to 2022 was 100%. 
Campus Tour
Ranking & Accreditation
This program is fully accredited by the COA and was granted the 10 year maximum accreditation when it was reviewed in 2018. It will be reviewed again in 2028. Additionally, this program is also accredited by the CCNE (Commission on Collegiate Nursing Education).
This school has a third accreditation by the Southern Association of Schools and Colleges Commission on Colleges (SACSCOC) that also granted a 10 year accreditation for the period of 2018 to 2028. It will be reviewed again in 2028. 
Tuition
The cost of tuition per semester is $14,667 and the total cost of the program is $132,000. There is also a SONHS Fee: $3,510
Note that if you intend on starting in Spring 2024, the cost per semester is $17,222.22 and the total cost of the program is $155,000.
Keep in mind that there are some additional costs that you'll have to cater for such as the cost to attend 2 professional conferences, AANA membership fee, labcoats etc. 
University Of Miami CRNA Admission Requirements
Firstly, you will need to have a Bachelor's degree in Nursing from a school that is regionally accredited. There is a higher preference for degrees that are CCNE or NLN accredited. You will need to have an unrestricted RN licence that allows you to practice in Florida. 
If you're a registered nurse with a Bachelor's degree in a science, then this may possibly be accepted as well. Your GPA will also need to be a minimum of 3.0 and your minimum cumulative basic science GPA also needs to be 3.0. It is also necessary that you have completed an introductory statistics course before orientation.
Required Certifications
Your BLS and ACLS certification must be from the American Heart Association.
GRE & TOEFL
GRE is not required by this school.
TOEFL is required if your native language isn't English. The minimum acceptable scores are as follows:
Paper Based TOEFL (PBT): 550
Internet Based TOEFL (IBT): 80
IELTS (Academic): 6.5
TOEFL/IELTS may be potentially waived if you have a degree or graduate degree from an institution where the program was in English, even if your native language is not English. This needs to be confirmed with a statement on your official transcript. 
Critical Care Experience
Any critical care experience is accepted. That said, this school doesn't typically accept Operating Room, Emergency Room or step-down ICU experience
Types of Critical Care Experience that are fully accepted:
Neuro ICU
Surgical ICU
Trauma ICU
Pediatric ICU
Medical ICU
Cardiac/Cardiothoracic/Cardiovascular ICU
UM CRNA Application
All applications need to be submitted through the NursingCAS as mentioned previously. You will need to submit your official transcripts from every school you've attended via the NursingCAS. Do note that these transcripts need to be sent from the institution itself and not you. If you have international qualifications, then you will need to review the international transcript requirements and adhere to them.
Next, you will need to have a statement of purpose which indicates why you want to become a CRNA, your personal and professional goals etc.
Three letters of recommendation are also required. You will need to get a letter from your current clinical supervisor, a past or current faculty member of the school you attended and the third letter of recommendation can come from a colleague that you work with or a community leader.
Next, you'll have to upload your CV and resume, unrestricted RN license, employment verification and certifications. 
Interviews – What To Expect
Once your application has been accepted, you will be notified via phone or email once you've been successful. Then, you'll be invited to an interview with the admission committee. It is possible that you can have interviews done in person or online.
According to past interviewees, the interview itself was laid back. They got a tour of the school and a presentation of the CRNA program. The questions were mainly based on potential situations and challenges with patients or treatments. So, it is important that you are well prepared for the interview. 
Miami CRNA Salary
According to Salary.com, the average salary of a CRNA in Miami is between $191,160 and $221,950. According to ZipRecruiter, the average is $223,907 per year and on Glassdoor it is between $104,000 and $163,000.
Interested in other schools? – Check out the rest here.