The 5th CRNA program in California that we will be looking at is the University of Southern California.
Address: 1975 Zonal Ave. Los Angeles, CA 90033
Phone: (323) 442-1900
(323) 442-7400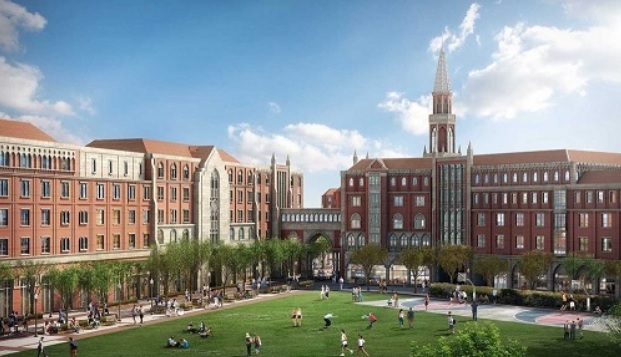 About The University of Southern California CRNA Program
The USC CRNA program will take 36 months to complete (80 to 81 units) and once you've successfully completed the program, you will receive a Doctor of Nurse Anesthesia Practice (DNAP) degree. In the University of Southern California, this program is headed by the Department of Anesthesiology in the Keck School of Medicine.
You can apply for this program starting on July 1st until September 30th. Interviews are usually done in December with the new class starting in May of each year. If you are accepted into the USC CRNA program, then you'll be notified by early January.
The class size is currently 24 students (as of 2023) and in this year there were 56 applicants. This school offers a great chance of success as the NCE first time pass rate for June,2023 is 95%. The attrition rate for 2023 is 0% and the employment rate within the first 6 months of graduating is 100%.
Another great thing about this USC nurse anesthesia program is that the first semester is typically a mix of both remote and on campus learning. The University of Southern California also has numerous clinical education sites where you'll be assigned for clinical rotations. These sites are Cedars Sinai Medical Center, Keck Hospital of USC and Los Angeles General Medical Center.
Quick Look At The Keck School Of Medicine In The USC
Ranking and Accreditation
This program is fully accredited and was granted accreditation in 2014 for a 10 year period, after which it will need to undergo review. According to the U.S. News & World Report 2016, it is currently ranked #10.
Tuition
The tuition cost at this school is quite high at approximately $151,000.
USC CRNA Program Requirements
The first requirement is that you have a Baccalaureate degree in nursing. Having an MSN is also acceptable. You will also need to have at least 1 year of critical care nursing experience, but by the time applicants are admitted into the program, this should be a minimum of 2 years critical care experience. You will need to be a registered nurse with active CA licensure.
The minimum acceptable cumulative GPA is 3.0. Now, keep in mind that the typical applicant to this program has a GPA of 3.61.
Next, you will need to show proof of English comprehension and writing. AP English is typically accepted.
Required Courses
Chemistry (2 semesters where 1 semester covers inorganic chemistry and the 2nd semester covers biochemistry or organic chemistry.) You can do combined chemistry courses, but if this is the case, then you still need to do 2 semesters of the combined chemistry course for this program.
Anatomy (1 semester) and physiology (1 semester). A combined course is also accepted but it has to be done for 1 year.
Biology or microbiology
Nursing research or statistics course
Physics (no lab required)
Health assessment
It is important to keep in mind that all of the above required courses need to be fully completed before enrollment. In the enrollment year, they need to be done by March 31st. In the event that you have completed the above courses more than 10 years ago, then you will need to re-do them.
You will also need to provide your official GRE transcripts from ETS.
Additional Requirements For Your CRNA Application
It is essential that you also have CRNA shadow experience. Fortunately, there is no minimum number of hours set for this. However, the experience does need to be high quality. It is possible for this to be substituted with an interview done with an actual CRNA.
There is a shadow form that will need to be completed and submitted. If you did the interview instead of shadowing, then simply adjust your answers on the form accordingly.
Next, you'll have to submit 3 letters of recommendation. Your references need to sign their recommendations and each letter must have a letterhead. Digital signatures are accepted.
You will need to write a statement of purpose and answer the questions here that are stated in the supplemental application.
All official transcripts must be provided from post secondary schools. Electronic transcripts are highly preferred, however, you can also send official paper transcripts. Note that you should only send one type of transcript (electronic or paper and not both).
If you've chosen to send official paper transcripts, then these need to be sealed and sent to the following address:
USC Program of Nurse Anesthesia
Attention: Loida Calapatia
1540 Alcazar Street, CHP-205
Los Angeles, California 90089-9012
If you've decided on sending electronic transcripts, then you will have to send them to this email address: etrans@usc.edu. It will take the admissions office up to 4 weeks to process them. Keep in mind that you need to submit both the university and supplemental applications before you send your official transcripts to the university. You will also need to pay an application fee of $75 to the university. This fee is non-refundable and if you fail to pay it, then your application won't be processed.
When sending the application fee, you will need to send it to the following address via USPS:
USC Program of Nurse Anesthesia
Attention: Loida Calapatia
1540 Alcazar Street
Center for Health Professions, Suite 205
Los Angeles, CA 90089-9012
Checks need to be addressed to: USC Program of Nurse Anesthesia
Certifications
The following certifications are no longer required by the University of Southern California as of 2023:
California CRNA Salary & Job Outlook
The average salary for a nurse anesthetist in Los Angeles is $235,799 but the range usually falls between $219,250 and $254,564.