In Connecticut, there are four schools that offer the CRNA program and one of them is the Yale New Haven Hospital.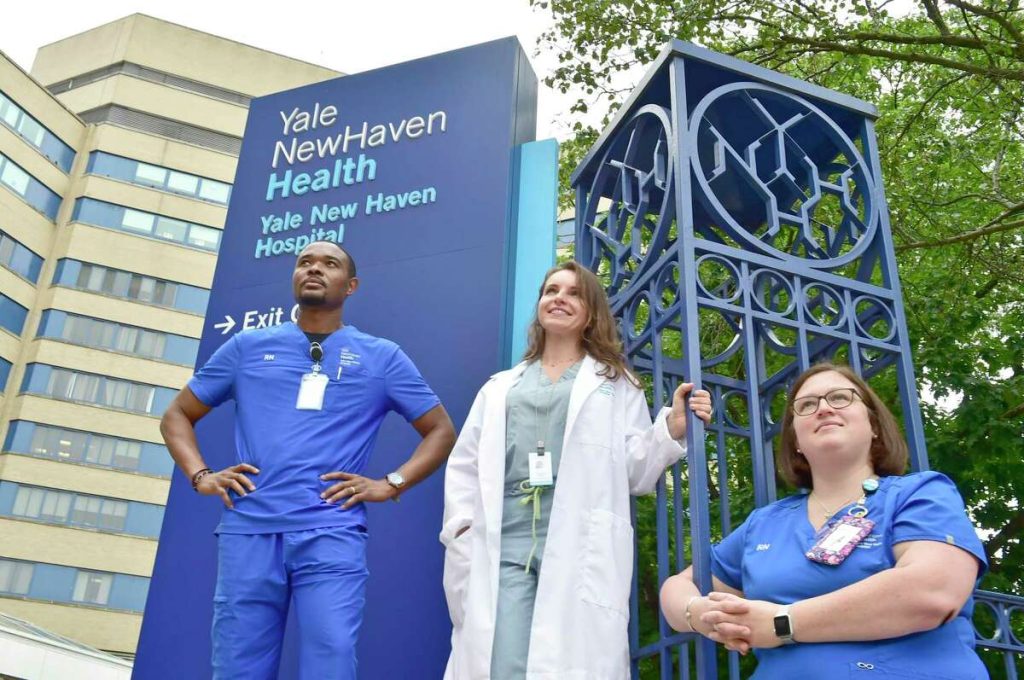 Address:
1450 Chapel Street – MOB #216
New Haven, CT 06511-4405
Contact:
Program Director: Marianne S. Cosgrove
PhD, DNAP, CRNA, FAANA
Associate Professor: Rachel Rachler
DNAP, CRNA, APRN
Nicolaus Copernicus Hall, Room 22408-2
dnap@ccsu.edu
860.832.2676
About The Yale CRNA Program
The Yale New Haven Hospital Of Nurse Anesthesia offers the DNAP (Doctor of Nurse Anesthesia Practice) via an academic affiliation with the Central Connecticut State University. This program will take 36 months to complete and admissions (entry level) are typically in May. Advanced specialization cohorts start in August. The application deadline is currently set at September 1st for entry level candidates and applicants that have passed the first round will be invited for an interview by October 15th.
In the first year of this program, you will be located at the Central Connecticut State University (CCSU). Then, the following two years of the program, your time will be split between CCSU and the Yale New Haven Hospital as well as its affiliates.
An interesting point to note is that the class size is only 10 students which is quite small in comparison to other CRNA programs. This is a competitive program to get into, but it is worth it because they pride themselves in producing extremely competent nurse anesthetists. You will receive a great deal of clinical and didactic experience which are in line with the COA's standards and guidelines (they are fully accredited by the COA).
The attrition rate as of 2023 is 0%, the NCE pass rate for first time takers is currently 100% (2023) and the 3 year Composite NCE pass rate is at 93%. Also, the employment rate of all graduates is 100%
Ranking & Accreditation
This program is fully accredited by the COA and was granted accreditation in October 2015 for a 10 year period, after which it will need to undergo review (in 2025). According to the U.S. News & World Report 2016, this program is currently ranked at #51 whereas it was previously ranked #63 in the 2011 U.S. News & World Report.
Tuition
Cost of tuition alone: $64,614
Additional expenses: $18,785
This gives a total of $83,399
Yale New Haven Hospital Of Nurse Anesthesia/ Central Connecticut State University (CCSU) CRNA Admission Requirements
This is a competitive program to get into and you will need to have an accredited baccalaureate program in Nursing or a science related degree that is also from an accredited school. This means they need to be N.L.N or A.A.C.N accredited.
You will also need to have a minimum cumulative GPA of 3.0 and your science GPA needs to be 3.3 or higher.
Your nursing license will need to be current and valid in at least one of the fifty states in the US.
Certification Requirements:
CCRN
ACLS
PALS
Basic Life Support
Critical Care Experience:
When you apply for this program, you will need to have at least 18 months of critical care experience within the US or its territories or in a U.S. military hospital outside of the US. Do note that this experience needs to be within 5 years of applying to this program.
Acceptable Critical Care Experience:
Cardio-Thoracic ICU
Emergency Room
ICU
Post-Anesthesia Care Unit
Neonatal ICU
Additional Educational Requirements
In your undergraduate degree, you will need to have the following:
Note – You need to complete the following courses within 8 years of your CRNA application and your grade should be at least a B or higher. If your grade is lower than a B (eg. B -), then you will need to retake the courses.
Chemistry: 4 credit courses completed in Chemistry which includes the following: Biochemistry, Inorganic or general chemistry and organic chemistry.
Anatomy and physiology: Completed two courses (4 credits)
Pharmacology: 1 course
One course in either biostatistics or basic statistics
Research methods – this isn't required but strongly recommended and preference will be given to applicants who have done at least one course in it.
In addition to the above educational requirements, you will also need to submit a narrative statement with your application. This statement should be a maximum of 400 words and describe why you want to be a CRNA, your career goals as well as your personal and professional experience that support your pursuit of this career.
Non-Educational Requirements:
You will need to provide 3 letters of recommendation that are from the following:
Your current supervisor
Healthcare team member, doctor or one of your peers that are not related
Dean from your particular nursing program
GRE
This school does not require GRE.
Early Action Admissions
If you're interested in being considered for early admissions, you can request this. However, in order to be considered for the Yale CRNA program, you will need to meet the following requirements:
GPA of 3.7+
Core Science GPA of 3.3+
Make the Yale New Haven Hospital Of Nurse Anesthesia your #1 choice of schools you wish to attend.
Once you have sent in your early admission application and completed the interview, you will be informed of the school's decision within 2 weeks after the interview.
If you are accepted, then you will have to pay a $2500 non-refundable commitment fee within one week of being notified of your acceptance.
In the event that you are not selected for early admission, your application will be reviewed once again with the regular admission applications.
Interview Information & Tips
Interviews can either be virtual or in person. In some cases, you'll receive feedback on whether you were successful or not within a couple of days of completing the interview.
According to past interviewees, the content of the interview was more focused on personal questions and emotional intelligence based questions.
Connecticut CRNA Salary
According to Salary.com, the average salary for CRNAs in Connecticut is $227,674 with a range between $211,694 and $245,794.
According to ZipRecruiter, the average salary is $253,734 and on Indeed.com, the average is $248,170.
Other Schools
Not sure if this is the school for you? Check out these others.